7 Places to visit with your family this school holidays in Penang
School holidays are here again, and it's the perfect opportunity for some quality time with your family.

If you are still looking for a destination for a holiday, why not try visiting The Pearl of The Orient, Penang. Here we've compiled some of the MUST GO places to visit in Penang:
1. Skywalk @Komtar
Located on the 65th floor of the local landmark, the Komtar Tower, Skywalk grants visitors a 360-degree seamless view of the Penang island. Try visiting it at night, and get ready to feast on the breathtaking night view of Penang.
Photo Credit: The Top Penang
2. Sia Boey Urban Archaeological Park
Sia Boey Park is the latest park installment near to Komtar & Prangin Mall. Started as Sia Boey Rejuvenation Project, the park was built as part of landscaping and as public amenities for the locals. Kids would have a wonderful time playing at the playground on a sunny day. Oh, did we mentioned the Japanese inspired water canal with Koi fish living in it?
Photo Credit: The Star
3. Disney Frozen 2 Wonderland at Sunway Carnival
Did your kids enjoy watching Frozen from Disney? Rejoice with the Disney Frozen 2 Wonderland at Sunway Carnival in conjunction with the release of the sequel of the movie Frozen. Enjoy spending time with your kids with leisure activities like manoeuvring through the maze and solving puzzles, or maybe even catch the new movie at the cinema this holiday.
Video Credit to PenangFoodie
4. Pesta Penang 2019
A classic go-to for the locals every year-end. Since its beginning from the 70s', Pesta Penang has brought many laughs and memories to its visitor through fun and engaging carnival games. Bring your kids here this school holiday, and let's win some plushies and toys for them while you are at it.
Photo Credit: Penang Foodie
5. World's Longest Water Slide at Escape Park
Malaysia now holds the Guinness World Record for the longest water slide in the world. Hooray! Situated in the tropical forest of Teluk Bahang, Penang, this amazing ride is part of the Escape Park that offers a series of challenging and fun activities. Your kids will surely enjoy navigating through obstacle courses, ziplines, and waterslides!
Photo credit: Shutterstock
6. Queensbay Mall Winter Joy
When it comes to Christmas decorations at the mall, Queensbay Mall has been the benchmark for years now in Penang. The team has again come up with a marvellous design just in time for the Christmas season this year. Featuring animals from the winter series, like penguins, seals, and polar bears, kids would be thrilled to immerse themselves in the joy of winter. You can also do Christmas shopping as well as there will be lots of discounts going on at the mall outlets.
Photo Credit to PenangFoodie
7. Entopia by Penang Butterfly Farm
Play and learn at the same time at nature's largest classroom and discovery hub, Entopia, where loads of butterflies flutter around and insects free to roam. Located at Teluk Bahang, Penang, Entopia showcases 150 species of fauna and more than 200 species of flora throughout the entire exhibition. Discover the wonders of nature at The Cocoon, featuring two floors of learning exhibition and indoor activities, designed for a mesmerizing walk-through experience and fun, hands-on learning activities.
Photo Credit to Entopia.com
You can now enjoy all these exhilarating activities without having to travel far to Penang. Check out IJM Land's latest project in Penang --Terraces Condominium.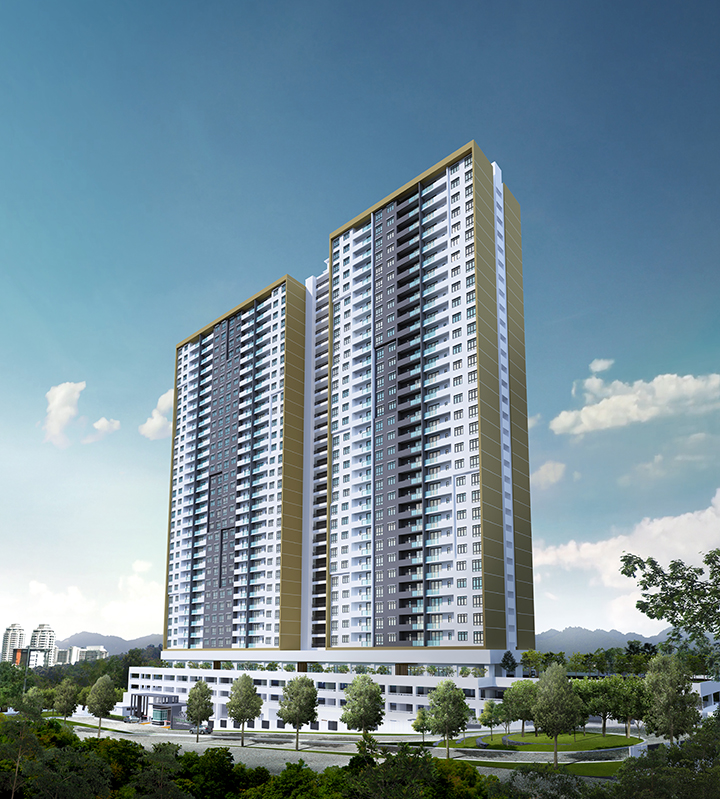 Strategically located on the land next to INTI International College, and 10km away from Penang Bridge, Terraces Condominium is the best choice for a family looking to stay in a tranquil environment. The 34-storey condominium tower features a total of 410 units, with an option to choose from two types of units, ranging from 925-950 sq.ft.
Click here to view Terraces website
Contact us today for more details. (04-2961288)